After four long years, Apple is expected to roll out a new MacBook Pro on Thursday.
Following the launch of the iPhone 7 and new Apple Watch models last month, Apple (AAPL, Tech30) is holding an event at its Cupertino, California headquarters to debut new laptop and desktop computers. The new products will debut just ahead of the holiday shopping season.
The company is expected to launch new 13-inch and 15-inch MacBook Pro notebooks, as well as a redesigned iMac desktop computer. The more affordable MacBook Air line is also slated for a refresh.
The event, which kicks off at 1:00 p.m. ET, features the tagline "Hello, again" — a nod to Apple's first Macintosh computer from 1984.
The MacBook Pro laptops are rumored to have a second display at the top of the keyboard, allowing you to control Mac apps with your fingertips. The devices are also said to have better graphics, a flatter keyboard, a slimmer body and larger trackpad.
Related: Microsoft goes after Apple users with sleek Surface desktop
Hidden in this week's macOS Sierra updates were photos teasing the MacBook Pro. The laptop appeared to have an OLED screen that supports TouchID, the fingerprint identification system used for security and Apple Pay.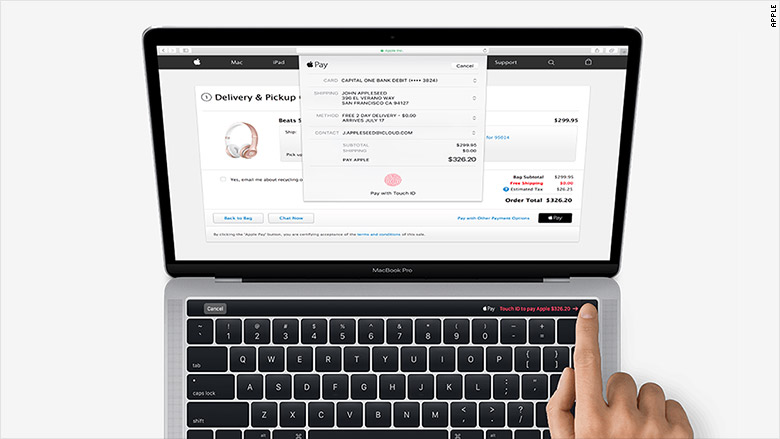 The 13-inch MacBook Air is also believed to get an upgrade too, but it won't likely come with Retina display. Meanwhile, the smaller 11-inch version could be entirely cut from the line. The move wouldn't be too much of a surprise, considering the introduction of the 12-inch MacBook last year. Both laptop sizes will reportedly come with USB-C support.
A hardware update could be in the future for the iMac, too. It's said to feature a faster and more powerful processor and better graphics. Apple dropped its Thunderbolt display from the Mac line earlier this year, but it's rumored to be working on a new 5K display to replace it. (Apple currently has a 5K iMac model.)
Related: Apple delays its AirPods launch
However, we won't learn more about when consumers can buy a pair of AirPods, Apple's new wireless earbuds teased at the iPhone event last month. The company said on Wednesday it is delaying the launch for an unknown amount of time.
Although the iPhone remains the company's biggest moneymaker, Mac sales accounted for 12% of revenue in the third quarter of 2016.
Earlier this week, Apple reported an annual sales decline for the first time since 2001. It's uncertain if Thursday's news will drum up consumer excitement and spark an uptick in sales.