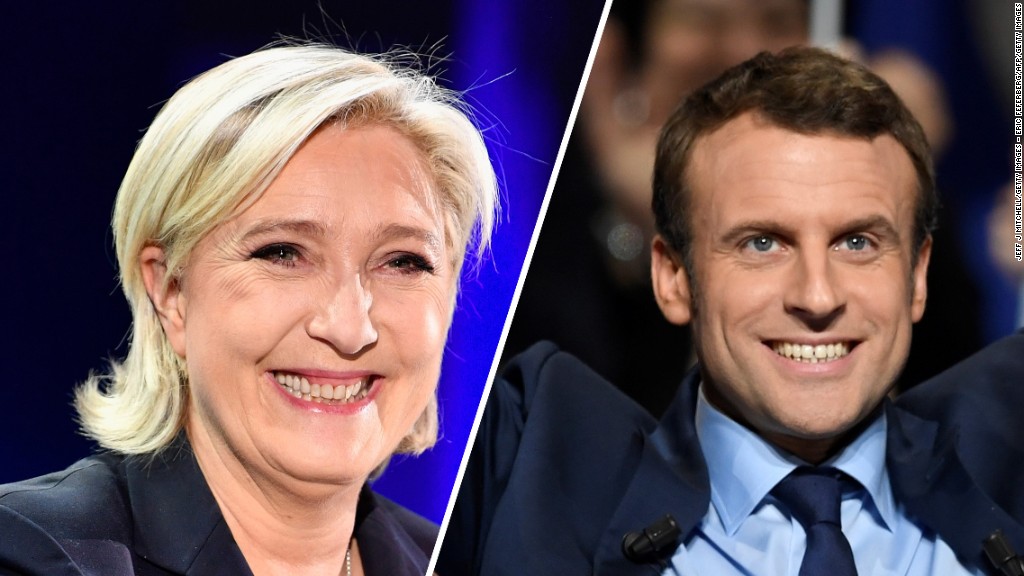 Far-right candidate Marine Le Pen is trying to attract an unlikely group of voters ahead of France's pivotal presidential runoff: the extreme left.
It's an appeal based on economics: Le Pen and the left-wing share a distrust of big banks, free trade and globalization. Plus: both groups have no time for Le Pen's opponent, former investment banker Emmanuel Macron.
"The main enemy of the French people is still finance. This time, it has a name, it has a face, it is Emmanuel Macron," Le Pen said at a rally on Monday.
Le Pen wants lower taxes on the middle class, and increased state support for the elderly, disabled and children. She wants to safeguard France's 35-hour work week and strengthen other protections for workers. She presents herself as the true champion of blue-collar France.
It's a message that should appeal to supporters of far left candidate Jean-Luc Melenchon, who failed to advance to the runoff despite a late surge in the polls.
"In some ways, their agenda intersects when it comes to economic policies, with a strong role for the state, taxing the rich, [and] keeping existing working time restrictions," said Alexandre Afonso, assistant professor in public policy at the University of Leiden.
Related: Is Le Pen going soft on threat to quit the euro?
Le Pen, who is trailing Macron badly in opinion polls, is now playing up her support for the working class in an effort to attract the 18% of voters who backed Melenchon in the first round of the election. While other candidates have endorsed Macron ahead of Sunday's final vote, Melenchon has been silent.
"Many of that 18% are assumed to be disillusioned, anti-elite voters who could potentially move across to Le Pen," said economists at IHS Markit.
Le Pen has also toned down her attacks on the euro ahead of the runoff, recognizing that her hostility towards the European currency could scare away potential supporters. She now says that France dropping the euro is "not a prerequisite" for her economic plans.
Melenchon ran on a similar platform: He wanted to renegotiate France's membership in the euro, and leave the currency bloc only if talks failed.
Related: France is the weakest of Europe's big 3 economies
Still, Le Pen's positions on other matters make her a tough sell to France's far left.
She is staunchly opposed to immigration, and wants to limit access to public services for new arrivals. Internationally, Le Pen wants closer ties with Russia.
Afonso said her views were especially likely to turn off younger voters.