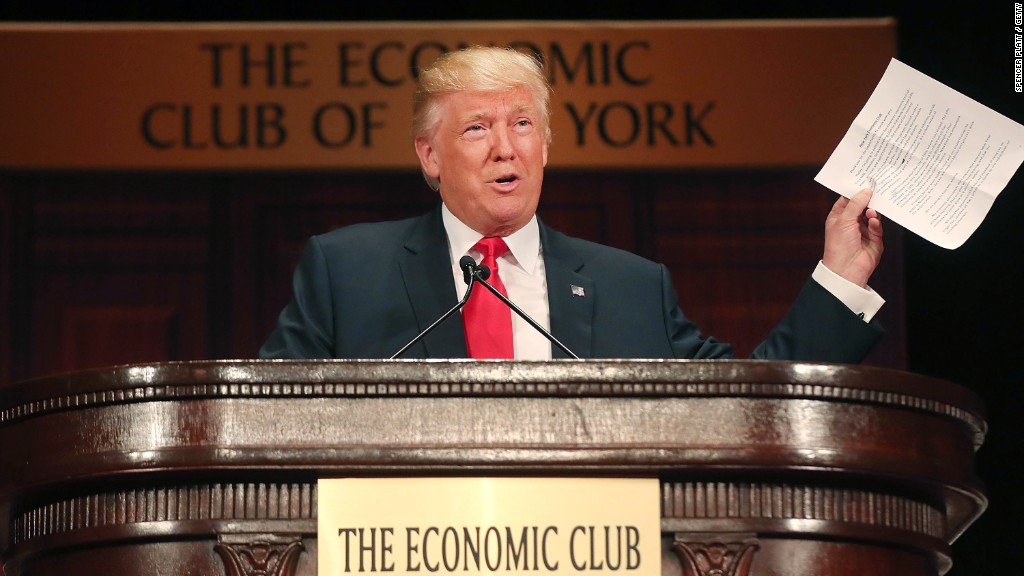 1. Jobs report: On Friday, the U.S. Labor Department will release its February jobs report.
It's the second jobs report for President Trump, but the first one that evaluates the country's employment situation under his leadership (last month's jobs survey was conducted in the second week of January while President Obama was finishing out his term).
Trump is feeling pretty good about the economy. "Since November 8th, Election Day, the Stock Market has posted $ 3.2 trillion in GAINS and consumer confidence is at a 15 year high," he tweeted on Thursday, adding "Jobs!"
He's right: Things are looking good. In January, the U.S. added 227,000 jobs — 70,000 more than it it did in the previous month. Jobless claims just hit a 44-year low, and small business optimism is the highest it's been since 2004.
But a strong jobs report would bolster Federal Reserve Chair Janet Yellen's case to raise interest rates. Higher rates could stall business spending and home purchases — so Trump shouldn't declare victory just yet.
Related: U.S. economy adds a strong 227,000 jobs in January
Related: Trump's economic boom: Three red flags
2. Geneva international Motor Show: Once again, car enthusiasts will gather in Geneva to check out the future of cars as imagined by the world's most prominent automakers.
The 87th Geneva Motor Show kicks off on Thursday, March 9th and lasts for ten days. This year, Ferrari, McLaren and Lamborghini will all debut faster, sleeker, more luxurious versions of their sports cars. Land Rover and Mercedes-Benz will showcase luxury SUVs, and they're not the only ones with goodies to display .
Although Tesla(TSLA) won't be exhibiting at the show this year, other automakers are promising to reveal new electric vehicles. Renault said it will unveil an "EV surprise," and Toyota(TM) said it will show off a new electric vehicle concept called the "i-TRIL Concept." Should be interesting.
Related: Cool cars from the 2016 Geneva Motor Show
3. Urban Outfitters earnings:Urban Outfitters(URBN) will report its fourth quarter earnings on Tuesday. Last quarter, the retailer's stock slipped after it missed Wall Street's expectations.
But Urban's got a lot going for it compared to other clothing retailers. Its namesake locations are offering in-store experiences to lure customers into brick and mortar spots, and it's selling way more than just clothes. Plus, Urban Outfitters doesn't need the mall to succeed. So unlike The Limited, Macy's(M), JCPenney and other stores that rely on malls for sales, Urban Outfitters hasn't tied its fate to a fading institution.
Related: Nearly 44,000 retail workers have been laid off in 2016
Related: The Limited just shut all of its stores
4. South by Southwest starts: SXSW kicks off on Friday. The Interactive portion of the conference, which lasts until March 16th, will feature panels, parties and stunts by established brands and startups trying to break through.
This year's speakers include Shark Tank's Chris Sacca, AOL co-founder Steve Case, investor Mark Cuban and others. Expect them to talk tech, trends, investing and, as our president continues to wage a war against Silicon Valley, maybe some politics.
Related: Obama during SXSW 2016: We can't fetishize our phones
Related: More than 100 companies join legal fight against Trump travel ban
5. Coming this week:
Monday – Gallup U.S. Consumer Spending Measure
Tuesday – Urban Outfitters earnings
Wednesday – "A Day Without a Woman" general strike
Thursday – Geneva International Motor Show
Friday – Jobs report