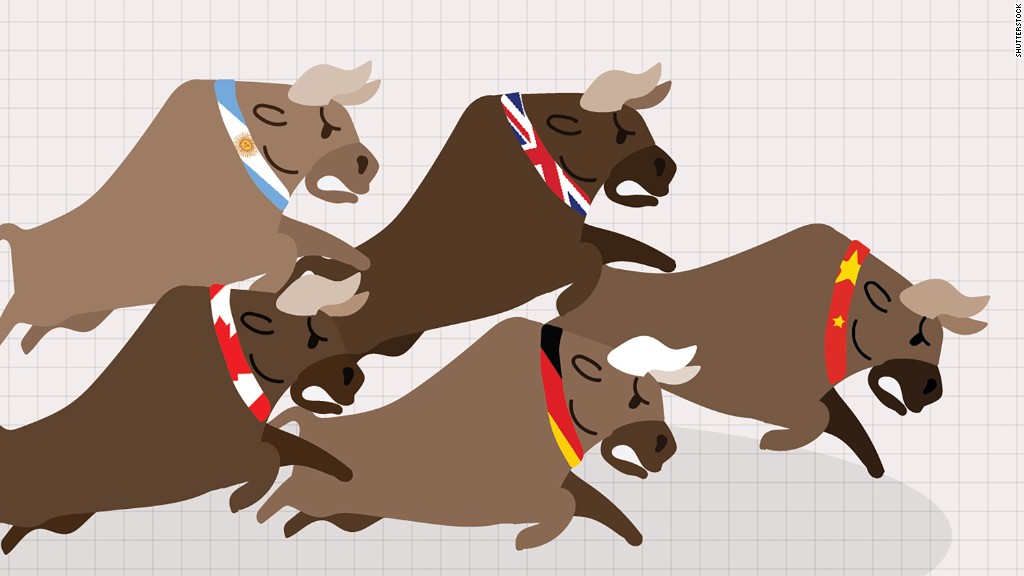 Betting against Wall Street's ferocious Trump rally can be dangerous.
A mutual fund using complex trading strategies lost $ 600 million over just five days because it picked a terrible time to be bearish.
Thealarming losses for the $ 3.2 billion Catalyst Hedged Futures Strategy Fund underscores just how powerful the rise in the stock market has been.
The Dow, S&P 500 and Nasdaq all closed at record highs for five days in a row through Wednesday, something that hadn't happened since January 1992. President Trump even tweeted about the feat.
The problem is that Catalyst placed defensive bets that would protect investors from market turmoil, but expose them to losses if the market got any higher.
That's exactly what happened, causing the mutual fund to suffer a loss of 15% through Thursday's close, Catalyst confirmed to CNNMoney.
The situation was worsened by the fact that the options that Catalyst had bet on were set to expire on Friday, making them virtually worthless given the market rally.
"This type of market, rapidly rising prices with low and falling volatility, is the exact thing the fund is positioned against," Catalyst Capital Advisors CEO Jerry Szilagyi said in a statement.
Related: Trump rally is best for new POTUS since LBJ
The losses sparked rumors on Wall Street over the fund's financial health. But Szilagyi said investors didn't dramatically yank their money and insisted the fund "is not, and has not been, under any duress."
Szilagyi said the losses triggered a risk management process to "kick in," causing Catalyst to reverse its bearish position into a bet that the market would rise.
Michael Block, chief strategist at Rhino Trading, said the fact that Catalyst and possibly other firms had to turn bullish may have actually helped contribute to the rally on Wall Street. He said the episode shows how strong market momentum can run over funds leaning in the wrong direction.
"It spirals and snowballs, forcing you to buy high and sell low," Block said.
Related: Goldman Sachs up 37% since Trump's victory
Catalyst emphasized that it has no further exposure to the bets that got the fund in trouble.
"We have navigated through this type of market in the past, and we believe we will do so again," Szilagyi said.
Of course, the big rally on Wall Street has now cooled off a bit. The Dow opened down nearly 100 points on Friday after six-consecutive record days.
Block noted that the markets dipped a bit on Thursday during Trump's press conference. He said Trump didn't inspire confidence during the event because he focused way more on attacking the media than touting pro-growth tax cuts and deregulation.
"We've seen the market rally quite a bit when he talks about tax cuts and Dodd-Frank going away," Block said. "But when he's hectoring a journalist, it just reminds me of Hugo Chavez. What's he doing?"