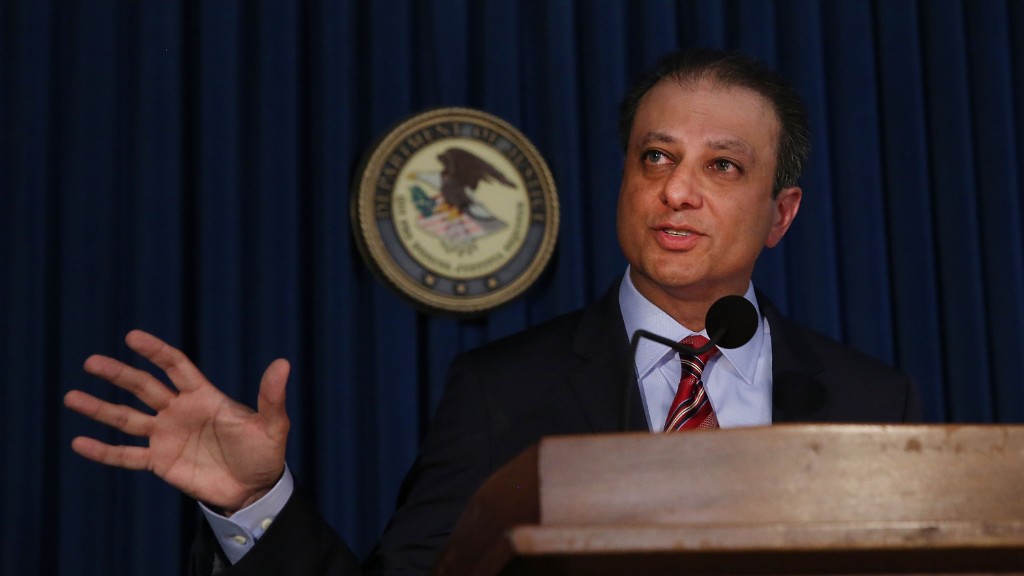 In his first public speech since being ousted from his post as U.S. Attorney for the Southern District of New York a month ago, Preet Bharara revealed why he forced President Trump to fire him.
The man known as one of Wall Street's fiercest watchdogs, was among the 46 U.S. attorneys asked by the Trump administration to resign on March 10.
While it's standard procedure for presidents to pick their own U.S. attorneys, Trump had previously asked Bhararato stay on.
So when news came last month that Trump had apparently changed his mind and was asking for Bharara's resignation, he refused to step down. Trump fired Bharara the next day.
"I wanted it to be on record that there was a deliberate decision to change [his] mind and fire me, particularly given what my office's jurisdiction is," he said, speaking at The Cooper Union in New York City Thursday.
"I'm not making any accusations," Bharara said. "But I wanted the record to be clear."
Related: Prosecutor fired by Trump leaves legacy as Wall Street crime-buster
Bharara also drew some laughs from the crowd. "I didn't understand why that was such a big deal [to fire someone,] especially for this White House," he said. "I had thought that is what Donald Trump was good at."
"I remember that moment every week during The Apprentice, when Donald Trump would look at his contestants and say, 'Please submit your letter of resignation,'" Bharara added.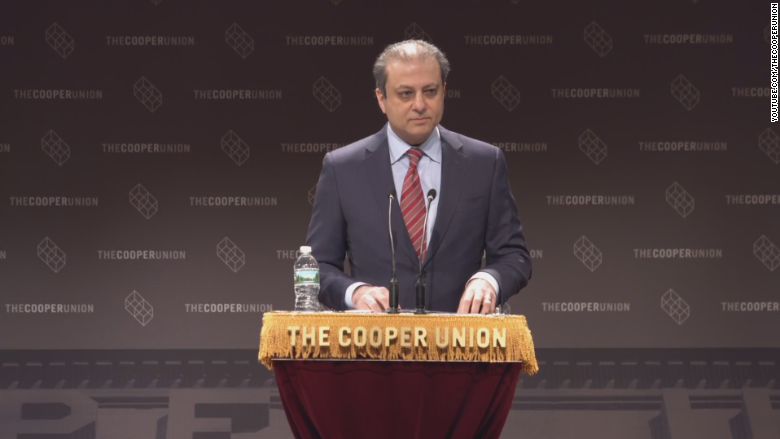 Bharara got the coveted prosecutor's job in New York during the depths of the financial crisis in 2009. He went on to earn a reputation as a cutthroat pursuer of insider trading and other types of financial fraud.
During his speech Thursday, Bharara recounted some of his office's many victories, putting financial criminals in jail and going after political corruption. Though, he added, there is still much work to be done.
"A lot of the system is rigged, and a lot of your fellow Americans have been forgotten and have been left behind. Those are not alternative facts and that is not fake news, but I would respectfully submit: You don't drain a swamp with a slogan," Bharara said.
He also took a serious tone in addressing the recent attacks on the Consumer Financial Protection Bureau. Congressional Republicans and the White House have lobbed critiques at the agency, saying it wields too much power. And the CFPB has been facing litigation that questions whether the appointment process for its director is unconstitutional.
Related: House Republican: President Trump, fire CFPB Director Richard Cordray
"It's somewhat remarkable when people are not just talking about the structure of that agency, but denigrating the mission of that agency, which, as far as I understand it, is about helping average people and consumers," he said.
Bharara now holds a position as a distinguished scholar in residence at New York University in Manhattan. He's also spent a bit of time taking jabs at the Trump administration on Twitter since he got fired last month.