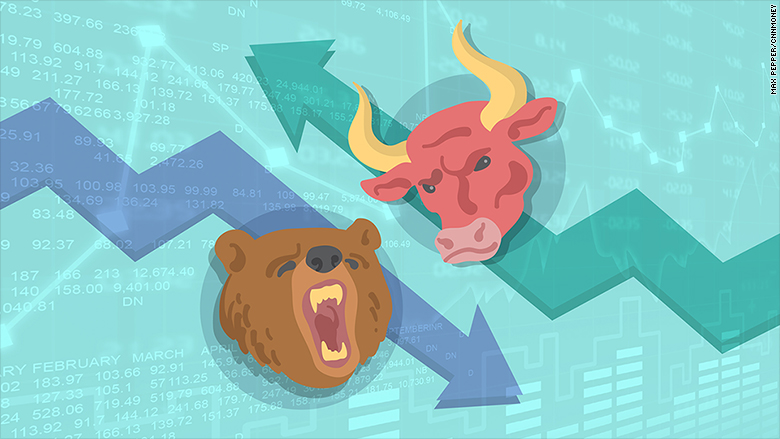 1. Seeing red: Investors around the world are (still) hitting the sell button.
Major indexes in Europe and Asia gave up ground on Monday as inflation fears continued to batter stocks. Japan's Nikki dropped 2.6% to lead regional markets lower, while Europe opened with losses around 1%.
U.S. stock futures pointed to losses in New York as well.
Investors are concerned about Friday's robust January jobs report, which showed a big increase in U.S. wages. That has stoked concerns about rising inflation, higher interest rates and lower corporate profits.
The Dow plummeted 666 points, or 2.5%, on Friday — its darkest day since the Brexit turmoil in June 2016.
"We're at an inflection point, one that we haven't seen in quite some time, where good news for Main Street is not necessarily good news for Wall Street," said Peter Kenny, an independent market strategist and founder of Kenny's Commentary.
Meanwhile, higher yields are making bonds look like a more attractive investment, raising concerns that masses of investors could ditch stocks in favor of bonds.
The 10-year U.S. Treasury yield has rocketed from about 2.4% at the start of 2018 to a four-year high of 2.85%.
Before the Bell newsletter: Key market news. In your inbox. Subscribe now!
2. Powell era begins at the Fed: Jerome Powell takes over from Janet Yellen as chair of the U.S. Federal Reserve on Monday.
When Yellen began her four-year term as the first woman to lead the Fed in 2014, the unemployment rate was 6.7%. Today it's 4.1%, the lowest in 17 years.
The Fed is expected to raise interest rates multiple times this year.
3. Stocks to watch — Wells Fargo, Broadcom, Qualcomm: Shares in Wells Fargo(WFC) were set to tumble after the Federal Reserve handed down an unprecedented punishment late Friday for what it called "widespread consumer abuses," including its notorious creation of millions of fake customer accounts.
Wells Fargo won't be allowed to get any bigger than it was at the end of last year — $ 2 trillion in assets — until the central bank is satisfied that it has cleaned up its act.
Reuters reports that Broadcom(AVGO) plans to announce an improved $ 120 billion offer for Qualcomm(QCOM) that is designed to bring its rival to the negotiating table.
4. International market movers — Samsung, Ryanair: Shares in Samsung(SSNLF) posted a mild gain on news that its de facto leader was getting out of jail sooner than expected.
Lee Jae-yong, a 49-year-old billionaire, was found guilty of bribery and other corruption charges in August and sentenced to five years in prison.
But a higher court on Monday cut the sentence to two and a half years and suspended it for four years.
Shares in Ryanair(RYAAY) dropped by about 3% after the airline reported quarterly results. Analyst Gerald Khoo at Liberum said that management "struck a cautious tone on the outlook for next year."
Download CNN MoneyStream for up-to-the-minute market data and news
5. Coming this week:
Monday — Jerome Powell's swearing in at the Federal Reserve
Tuesday — Earnings from BP(BP), Disney(DIS),Snap(SNAP), General Motors(GM), Dunkin' Brands(DNKN) and Chipotle(CMG)
Wednesday — Earnings from21st Century Fox(FOXA), Hasbro(HAS) and Tesla(TSLA)
Thursday — Earnings fromNews Corp(NWS), Viacom(VIA), Twitter(TWTR), Kellogg(K), Thomson Reuters(TRI), Tyson Foods(TSN), Expedia(EXPE) and Yum! Brands(YUM)
Friday — PyeongChang2018 Winter Olympics begins; Apple's HomePod goes on sale