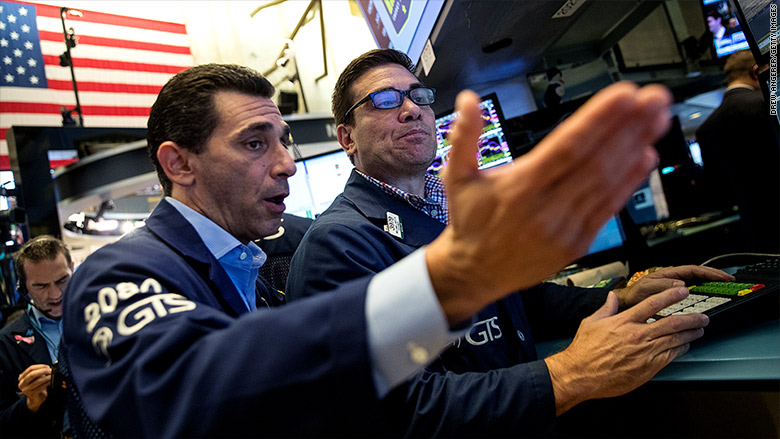 1. Tariff time?: President Donald Trump could formalize new tariffs on steel and aluminum imports on Thursday.
Or not.
There was confusion late Wednesday over whether the paperwork would be ready in time for the planned signing around 3:30 p.m. ET. There's also confusion about whether some countries would be exempt.
"The expectation is that the order enacting the tariffs will be signed by the end of the week, but the details remain elusive," said Mike O'Rourke, chief market strategist at JonesTrading.
The tariffs are expected to lead to retaliatory measures from other countries, raising concerns about an all-out trade war.
China's Foreign Minister Wang Yi said Thursday that "in the event of a trade war — China will make a justified and necessary response." The European Union is preparing tariffs on US products, including orange juice.
US stock futures were a bit soft.
European markets were mixed in early trading. Asian markets ended the day with gains.
Before the Bell newsletter: Key market news. In your inbox. Subscribe now!
2. Health care deal:Cigna(CI) has announced plans to buy Express Scripts(ESRX) in a deal valued at $ 67 billion, including debt worth $ 15 billion.
The Wall Street Journal first reported that the insurer and pharmacy-benefit manager were in talks.
Shares in Cigna were down 5% premarket, while Express Scripts stock added 17%.
It's the latest in a series of major health care deals.
3. Earnings:Kroger(KR), Embraer(ERJ) and American Eagle(AEO) will release earnings before the open. El Pollo Loco(LOCO) will follow after the close.
Kroger, the largest grocery chain in the US, announced last week that it would stop selling guns and ammunition to customers under the age of 21. The chain sells weapons and ammunition at 45 Fred Meyer stores.
The grocer may face questions from investors about its decision on guns, and its reported talks with Chinese e-commerce giant Alibaba(BABA).
4. Economics: The European Central Bank will announce a decision on interest rates and hold a news conference on Thursday.
Investors will be watching to see if the central bank gives any hints about its plans to wind down its stimulus program. Concerns over weak inflation and a potential trade war could force the ECB to keep its foot on the gas.
Markets Now newsletter: Get a global markets snapshot in your inbox every afternoon. Sign up now!
5. Coming this week:
Thursday — International Women's Day;Kroger(KR) earnings; Trans-Pacific Partnership Agreement set to be signed in Santiago de Chile; Geneva Motor Show opens to the public
Friday — US monthly jobs report