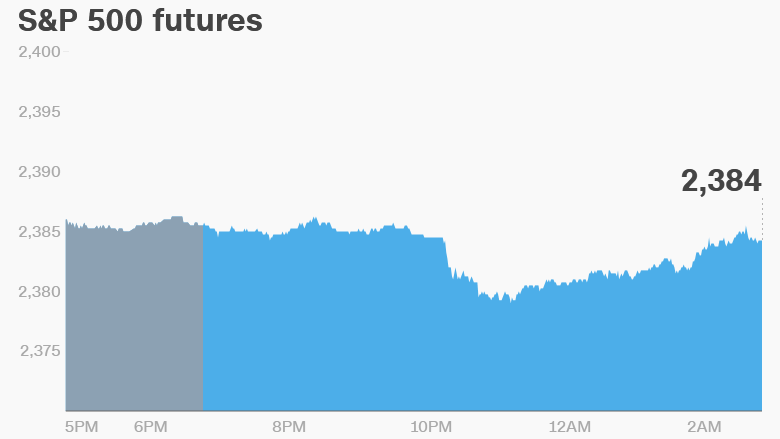 1. Jobs report: Can President Trump really create 25 million jobs over a decade?
The April jobs report, due out at 8:30 a.m. ET, will show whether he's on track to deliver on the key promise.
Economists surveyed by CNNMoney predict the U.S. economy added 190,000 jobs in April, which would be far better than the 98,000 jobs gained in March.
2. Oil prices plunge: Crude oil futures plunged more than 3% on Friday before recovering some of the losses.
It was the first time that prices have dropped below $ 45 per barrel since major oil producers agreed to slash production in November.
That deal, spearheaded by OPEC, helped support prices for months. But the magic now appears to be fading.
The main reason: a strong comeback by the U.S. shale industry.
The number of oil rigs in the U.S. has more than doubled over the past year, adding to a lingering global supply glut.
Investors will closely monitor a new snapshot of U.S. oil rig activity from Baker Hughes that will be released at 1:00 p.m. ET on Friday.
3. Warren Buffett to take the stage:Berkshire Hathaway(BRKA) is hosting its annual shareholder meeting in Omaha on Saturday.
Investors will be watching closely as Buffett and long-time Berkshire vice chairman Charlie Munger discuss their thoughts on the economy and take questions from investors about the company, individual stocks and politics.
Buffett told CNBC on Thursday that he sold off about a third of his IBM(IBM, Tech30) stake this year. Shares IBM dipped in premarket trading on Friday.
4. Global market overview:U.S. stock futures were lower early Friday.
European markets opened mostly lower. Markets in Asia finished the session in the red.
The Dow Jones industrial average closed flat on Thursday. The S&P 500 and the Nasdaq both added 0.1%.
Before the Bell newsletter: Key market news. In your inbox. Subscribe now!
Viacom(VIAB) shares bounced back in extended trading after plunging as much as 10% during the day Thursday. The company reported better than expected profits, but investors are worried about the longer term prospects of its subscription model.
5. Earnings:Cigna(CI), Scripps(SSP) and US Cellular(USM) will release earnings before the bell Friday.
Download CNN MoneyStream for up-to-the-minute market data and news
6. Coming this week:
Friday — U.S. jobs report for April
Saturday — Berkshire Hathaway(BRKA) annual shareholder meeting