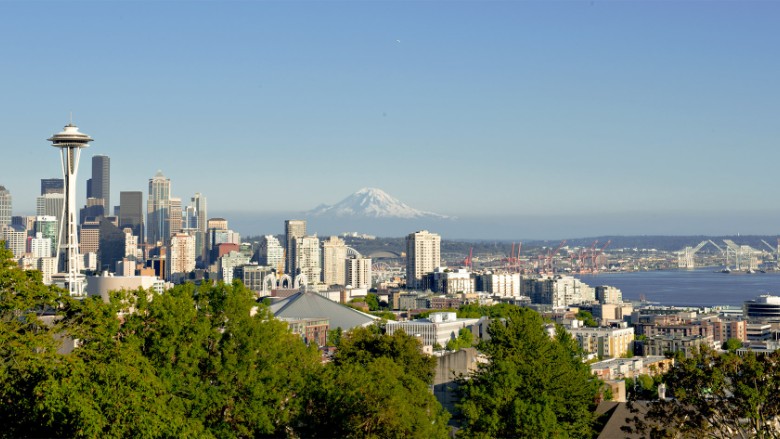 A controversial proposal to tax big businesses in Seattle is likely to get a final vote on Monday.
But negotiations over the weekend may have yielded a compromise deal that has a better chance of attracting broader support from Council members and Seattle Mayor Jenny Durkan.
Durkan on Friday said she didn't support the original proposal because it would cost jobs.
That proposal, which has not yet garnered a veto-proof majority of support on the nine-member council, is a "head tax" on the city's highest grossing businesses. It amounts to $ 540 a year per full-time employee in Seattle. By 2021, the head tax would convert to a 0.7% payroll tax.
The only companies affected would be those generating $ 20 million or more of annual revenue in the city — or fewer than 600 businesses.
The proposal was estimated to raise $ 75 million a year, the bulk of which would be used to help alleviate the city's acute homelessness and affordable housing problems.
In response, Amazon said it would pause construction on a jobs-generating project pending the outcome of the vote. And 131 other businesses voiced their objections in an open letter.
Related: For Amazon HQ2 hopefuls, Seattle serves as a cautionary tale
A compromise that may be presented for the council's consideration Monday would reduce the head tax to $ 275 per employee and expire it after five years, according to a report in the Seattle Times.
Amazon did not offer a response to the reported compromise deal.
A spokesperson for Mayor Durkan, meanwhile, said in a statement that the mayor "has been working around the clock with Councilmembers, businesses and workers to forge a path forward that protects our economy and family-wage jobs, while making meaningful investments in affordable housing and homelessness services. She is encouraged by the collaboration with Councilmembers and looks forward to the Council's vote this afternoon."
Seattle does not have an income tax because it is prohibited under state law. So the city is restricted in how it can raise revenue, and currently relies on sales and property taxes as well as a business and occupancy tax.