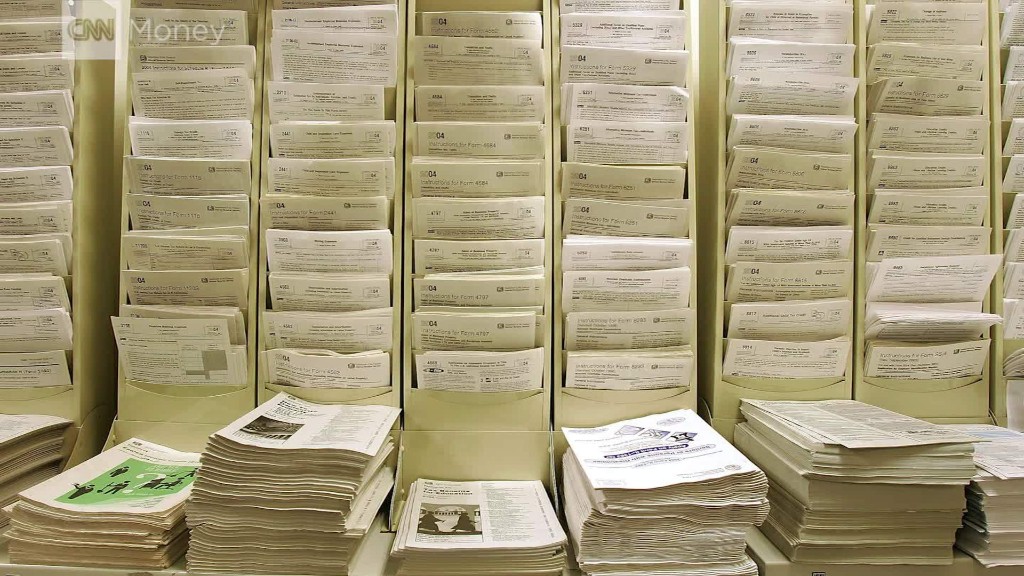 1. Tax day is coming: Ready or not, Tuesday is your last chance to file 2016 tax returns with the IRS.
April 18 is also the last day to request an extension. As of Thursday, the IRS said 40 million Americans had yet to file. The agency expects to issue an average refund of $ 2,851.
The deadline comes on the heels of a nationwide protest Saturday demanding that President Trump release his tax returns. Trump has refused to publicize them, defying a 40-year presidential tradition. While Trump isn't legally obligated to release his returns, polls show around 74% of Americans want him to do so.
Trump's 2016 tax returns will automatically be audited by the IRS, as is the case with all presidents' taxes.
2. United Airlines in a tailspin: The airline will release its quarterly report on Tuesday, one week after becoming embroiled in a turbulent PR nightmare. It all started when video surfaced of a passenger, Dr. David Dao, being dragged off a flight in Chicago.
The incident quickly went viral. On Tuesday, United shed $ 250 million off its market value. CEO Oscar Munoz initially said United(UAL) was sorry for having to "re-accommodate" customers, but later issued several statements explicitly apologizing for the way Dao was treated. Munoz has pledged to conduct a full review of the incident by April 30.
Dao's lawyer said Thursday he plans to sue United for damages. United has offered to reimburse passengers aboard the flight — as long as they promise not to sue.
Related: United says Flight 3411 wasn't overbooked. It just had no open seats left
3. Samsung Galaxy S8 release: Americans will be able to buy a Samsung Galaxy S8 starting Friday. Samsung unveiled the highly-anticipated smartphone in New York last week. The S8 was supposed to feature a new digital assistant, Bixby, which is seen as a competitor to Apple's Siri. While some aspects of Bixby will be ready on Friday, it won't be fully operational until "later this spring," according to Samsung.
The Galaxy S8 will be larger than the S7 and S7 Edge and will have no home button. That's a first for Samsung, though other Android phones have already eliminated the home button.
The smartphone is expected to launch globally later this month. It's Samsung's first big rollout since its fire-prone Galaxy Note 7 debacle.
4. Netflix and big banks report earnings: Investors hope Netflix(NFLX, Tech30) will have no chill when it releases its quarterly report on Monday. Sales for last quarter are expected to clock in at $ 2.6 billion, up from $ 2 billion this time last year. Netflix wowed in January when it announced 7 million new users were added in the winter quarter of 2016. Netflix now has 93.8 million users total.
Goldman Sachs(GS) and Bank of America(BAC) will also release their earnings this week. Goldman is expected to report $ 8.56 billion in sales, while Bank of America is predicted to post $ 21.6 billion.
5. Coming this week:
Monday – Netflix(NFLX, Tech30) earnings
Tuesday – Tax Day; United Airlines(UAL), Goldman Sachs(GS), Bank of America(BAC), Yahoo(YHOO, Tech30) and IBM(IBM, Tech30) earnings
Thursday – Mattel(MAT) earnings
Friday – U.S. release of Samsung's(SSNLF) Galaxy S8