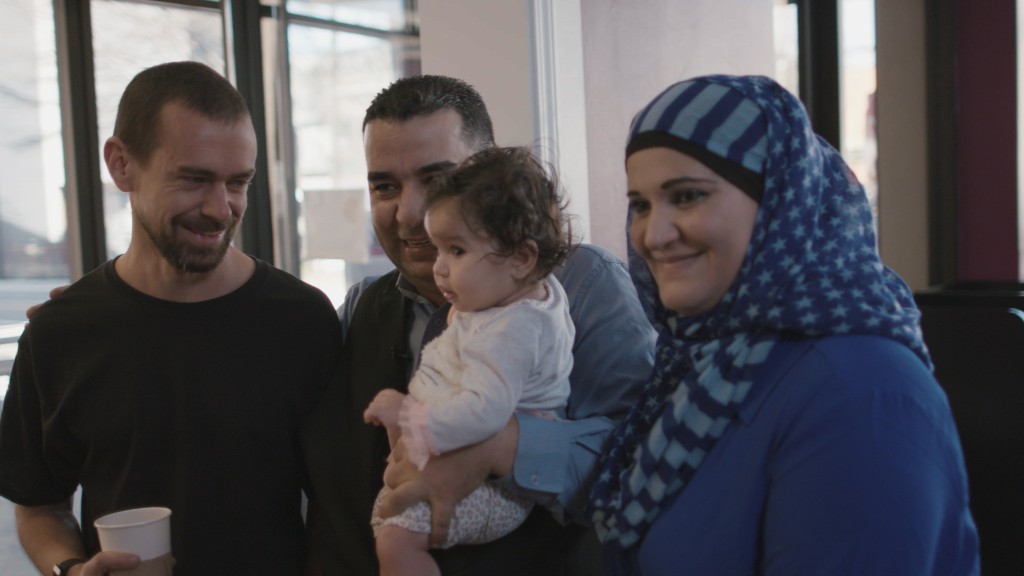 Three of America's biggest tech companies warned their employees about President Trump's immigrant ban. And leaders throughout the industry, where foreign-born entrepreneurs are central to the success of many businesses, condemned the sweeping decree.
The ink was barely dry on Trump's sweeping order Friday when the backlash began. The executive order bans about 134 million people from entering the U.S.
Google (GOOGL, Tech30) sent out a memo to its employees urging anyone with a visa or green card from one of the banned countries — Iran, Iraq, Libya, Somalia, Sudan, Syria and Yemen — to cancel any travel plans.
"Please do not travel outside of the U.S. until the ban is lifted. While the entry restriction is currently only in place for 90 days, it could be extended with little or no warning," the memo, which was reviewed by CNN, reads.
The company issued a statement Saturday, saying it's "concerned about the impact of this order and any proposals that could impose restrictions on Googlers and their families, or that could create barriers to bringing great talent to the US." Google also vowed to "continue to make our views on these issues known to leaders in Washington and elsewhere."
Related: Trump's latest executive order: Banning people from 7 countries and more
Apple (AAPL, Tech30) CEO Tim Cook issued a letter to his workers reacting to what he called "deep concerns" among employees. He assured them Apple does not support Trump's policy.
"There are employees at Apple who are directly affected by yesterday's immigration order. Our HR, Legal and Security teams are in contact with them, and Apple will do everything we can to support them," Cook's email, which was obtained by CNN, reads. "Apple is open. Open to everyone, no matter where they come from, which language they speak, who they love or how they worship."
Microsoft (MSFT, Tech30) — which is run by Satya Nadella, who immigrated to the U.S. from India — told employees Saturday that the company is committed to providing "legal advice and assistance" to its 76 employees that are citizens of the affected countries.
Related: Here's what tech execs are saying about Trump's immigrant ban
"We appreciate that immigration issues are important to a great many people across Microsoft at a principled and even personal level, regardless of whether they personally are immigrants," Microsoft executive Brad Smith said in an email to employees, which was shared by Nadella on LinkedIn.
The email also said the company is devoted to advocating for "the importance of protecting legitimate and law-abiding refugees whose very lives may be at stake in immigration proceedings." Nadella has previously spoken out on the issue.
Immigrants and their families have a long history of starting and running American businesses.
A 2011 report from the Partnership for a New American Economy found that about 45% of high-tech companies in the Fortune 500 were founded by immigrants or children of immigrants.
That list includes highly influential founders from some of the banned countries: Apple founder Steve Jobs was the child of Syrian immigrants, eBay founder Pierre Omidyar is the child of Iranian parents, and Oracle's Bob Miner is also Iranian.
Omidyar on Saturday called Trump's decision "simple bigotry."
Others in the tech community quickly came to the defense of immigration, including leaders like Facebook's Mark Zuckerberg and Twitter (TWTR, Tech30) and Square CEO Jack Dorsey.
"We benefit from immigration. We benefit from diversity. We benefit from including more people because we see different perspectives," Dorsey told CNN. "And the goal of the companies we build in San Francisco, and New York, and anywhere in this country is to have global impact. And to have global impact, you really need to understand the world. And to understand the world, you need to have people from all over the world inside your company."
Zuckerberg posted on Facebook (FB, Tech30) Friday. He touched on the importance of immigration in his own life's story, citing his wife, Priscilla Chan.
Related: Startup visa alternative will launch in July
"We should also keep our doors open to refugees and those who need help," Zuckerberg wrote. "That's who we are. Had we turned away refugees a few decades ago, Priscilla's family wouldn't be here today."
Facebook said in a statement Saturday that it's "assessing the impact [of the ban] on our workforce and determining how best to protect our people and their families from any adverse effects."
In a blog post, Y Combinator President Sam Altman called on the tech community to rally against Trump — calling the president's actions "a first step toward a further reduction in rights."
"This is not just a Muslim ban. This is a breach of America's contract with all the immigrants in the nation," Altman wrote.
He called on people to "not demonize Trump voters," but urged leaders in the community to publicly denounce Trump's actions "at a minimum." And, he said, "employees should push their companies to figure out what actions they can take."
Executives form LinkedIn, Yelp, Foursquare and Salesforce lambasted Trump's decision via Twitter on Saturday.
The ban sparked fear among Muslims in the industry.
"I'm horrified. As an immigrant who came through the green card process, the idea that it could be invalidated and you could be stranded away from home is truly shocking," an employee of one major tech firm said. "I'm a citizen now, but I have a lot of friends who aren't and who are worried. Even if you're not from one of those countries, if you're Muslim, who knows what could be next?"
Related: Trump immigration plan could cost the U.S. billions
Some in tech also vowed to help fund the American Civil Liberties Union's efforts to sue Trump over his refugee ban.
Shark Tank star and tech investor Chris Sacca promised to match up to $ 50,000 worth of donations to the ACLU.
Box CEO Aaron Levie also promised to donate, and in an email sent to CNNMoney Saturday, Levie also called the executive order "immoral."
"It's also deeply flawed as a matter of policy and will undermine our economy and security in the long-term if maintained," Levie wrote. "America's principles should be about openness and inclusion, and we're sending the wrong message to our communities and the rest of the world about maintaining these principles."