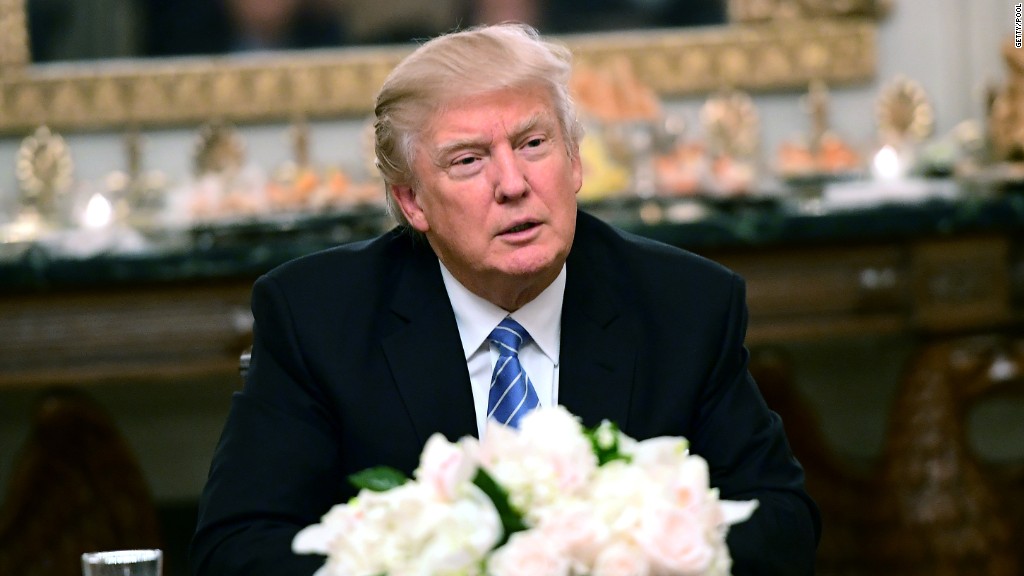 President Trump drew laughs Thursday when he said he would have to hammer out a trade deal himself with British Prime Minister Theresa May because his commerce secretary hasn't yet been approved by the Senate.
"I'm meeting with [May] tomorrow. I don't have my commerce secretary," said Trump, who made the comments to Republican congressional leaders. "They want to talk trade, so I'll have to handle it myself. Which is okay."
His nominee for commerce secretary, Wilbur Ross, has not yet cleared the Senate confirmation process.
Related: A 20% Mexico tariff would pay for the wall. But it would hurt Americans
"They're not quick with the pen, these people… They could move faster on the other side," Trump said, referring to the Senate.
It's not clear how literal Trump was being when he said he would handle the trade talks himself. Some in the audience chuckled at his comment, but his statement caused several levels of confusion.
For one, the U.K. can't yet ink it's own trade agreements.
Britain is still part of the European Union, and it'll be a couple of years before it's officially completed the Brexit process and can legally make its own trade deals.
Trump can spend his time with May working out the broad details of a future trade deal on Friday, but it may be a while before anything can be implemented.
Related: How U.K. trade stacks up
"The U.K. may choose to ignore that, but it means further souring the relationship with Brussels just as the Brexit negotiations are starting," Gregor Irwin, chief economist at the strategic advisory firm Global Counsel, has told CNNMoney.
But even if Ross was already confirmed, it's not typically the commerce secretary's job to hash out trade deals. That's traditionally the job of the United States Trade Representative.
Trump does have a pick for US trade rep: attorney Robert Lighthizer, who was a deputy US Trade Representative in the Reagan administration.
But the role isn't expected to carry as much power under Trump, sources have told CNNMoney. The Trump administration intends to give commerce a larger role in trade policy and negotiations, the sources said.